Happy Easter 2022, and I hope all who read this may find happiness, contentment and gratitude in their lives, as they ponder the experiences of life. We certainly have had an extraordinary series of happenings in recent times. I'm mindful that most of us have been challenged, but Easter pops up, every year, to remind us that Light can still shine in the darkness, Good can overcome evil , new life can come even out of death.
We echo that in our ANZAC ceremonies when we move from the sombreness of the last post to the rouse or reveille. This approach to life is really natural law, and universal truth. It was codified and witnessed to in the life and behaviour of Jesus and many others, but especially in the lives of those who have risked their lives to protect others and bring peace through their honourable military service.
The inspirational courage and hope of the Ukrainians at this time is before us. We pray that against the seemingly impossible odds they face that justice will prevail for them. Of course their faith is sustaining them but they need and deserve the support of all people of goodwill. We all have a role to play in making our world and local community, with whatever gifts and resources we have.
On Easter Saturday night , my role at our local parish church at Nerang will be to lead the congregation into the church in darkness, carrying a massive Easter candle, which all participants will in turn light their own candles from. At the end of the service I then commission them to go out and be light bearers to others in darkness .
We veterans too are called to be shining lights in a community of love, reaching out to veterans and their families in need at this time. From making contact with someone who seems to have gone off our radar, to organising life giving activities for veteran groups, we all can play a part.
Let us all thank God for the life we have been given and be aware that we are loved by God and others. We can live with hope that God has a purpose for each one of us in making our local community and our wider world a better place, through simple acts of love .
We are an Easter people . May Grace ,Peace and Love be with you all. Happy Easter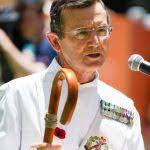 Gary Stone OAM
The Veterans Padre